Keep your website up-to-date
1.

Introduction

In each website package I always offer my clients the option of a Maintenance Contract after the initial period of free maintenance. This Maintenance Contract will ensure that I update the software that runs your website on a regular basis and keep an up to date backup of your website.

Some clients however opt not to purchase a Maintenance Contract and choose to update and backup their website themselves. This short manual will explain how to do that.

You can find more information about my Maintenance Contract here.
2.

Backing Up WordPress

Creating a backup of WordPress is important and should be done:
Before you update any plugin, WordPress core files and/or themes
After you have updated any plugin, core files or theme
Periodically to save your new posts, pages or image uploads
A WordPress backup consists of creating a copy of all WordPress core files, plugins, themes and other files like document uploads and storing that copy either on a place on your webserver or even better on a different server or your computer.
Next to creating a copy of all files you should also create a backup of the WordPress database.
2.1.

Clients on Artvaark Design's Webserver

If you have your website hosted on my web server you don't need to worry about backing up your website. The website's files and database are automatically backed up every week for the duration of your hosting. If you are often creating new pages and posts on your website on a daily basis I can also change the backup to happen every day.
2.2.

Clients on third party servers
3.

Updating WordPress

From time to time, themes, plugins & WordPress will require updating. Updates typically happen when developers release security patches or add extra functionality.

It's good practice to keep your themes, plugins & WordPress version updated to the latest versions. The top two reasons for sites being hacked are insecure passwords & outdated (vulnerable) software.
3.1.

Core WordPress Files

WordPress has introduced automatic background updates in an effort to promote better security and to streamline the update experience. By default, only minor WordPress releases are enabled (e.g. v4.6.1, v4.7.2). These minor releases are usually for maintenance and security purposes or translation file updates. Only core WordPress files will be auto-updated. Your themes or plugins won't be automatically updated.

Once your site is auto-updated you will be notified by email. If your WordPress installation can't update itself automatically for one reason or another, you will be notified of this as well.

Major WordPress updates (e.g. 4.7 to 4.8) are not done automatic and you will need to do these yourself. These major updates often contain important new features. It is important to make a backup of your website first before updating WordPress to a newer version.
3.2.

Plugins and Themes

To update your WordPress version manually or to update your themes and plugins, hover your cursor over the Dashboard menu option in the left-hand navigation menu and in the fly-out menu, click the Updates link. Alternatively, click the Dashboard menu option and then click the Updates link underneath.

The Updates page is divided into three sections. If your version of WordPress requires updating, this will be displayed at the top of the page. Below that, you'll be notified of any plugin updates and below that again, theme updates.

Updating your WordPress version is as simple as clicking the Update Now button. WordPress will download the necessary files, perform a validation of those files and then automatically update your site.

Before updating your site, it's always wise to perform a backup first, just in case something unfortunate happens during or after the installation.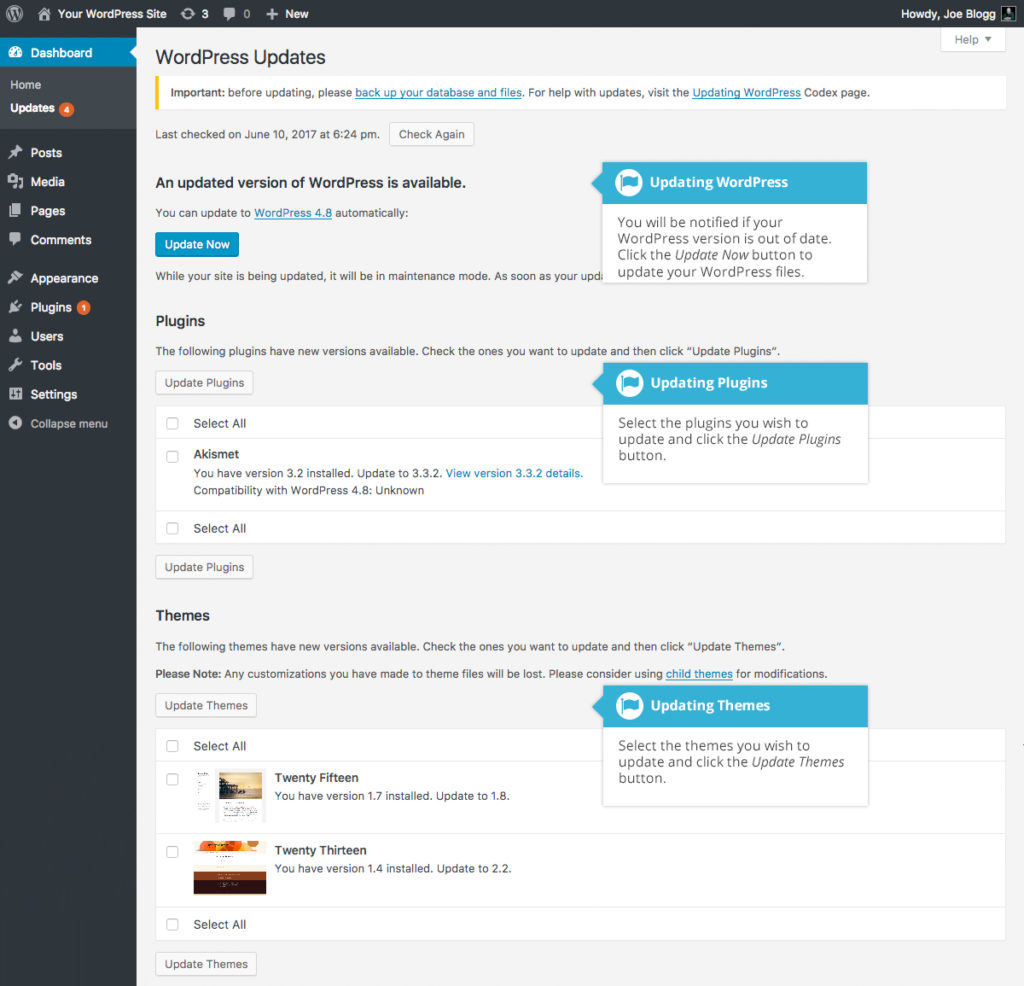 If there are any plugins that can be updated, these will be listed in the Plugins section on the page. To update your plugins, tick the boxes next to each of the plugins you wish to update and then click the Update Plugins button. The new plugin files will be downloaded and automatically installed.
If there are any themes that can be updated, these will be listed in the Themes section on the page. To update your themes, tick the boxes next to each of the themes you wish to update and then click the Update Themes button. The new theme files will be downloaded and automatically installed.
After your site has been updated, no matter whether it's been done automatically, manually or just themes and plugins, it's a good idea to give your site a quick test to make sure it's functioning as expected. This will ensure that the new themes, plugins or even WordPress itself hasn't introduced new functionality that adversely affects your site or changes how your site operates.